Bryce Harper is one of the biggest baseball hitters. More than that, Bryce Harper hair and beard have become a source of inspiration for men all around the world, be that for the variety of styles he consistently shows, or for the eye-catching experiments – which are always well succeeded.
Bryce Harper's haircuts are regularly featured in the fashion pages of major newspapers and magazines. When he makes a change, fashion fans know about it straight away.
Most Popular Bryce Harper Hairstyles
What is the secret behind an awesome haircut? The main answer is uniqueness. And this is exactly the reason for the hype behind Bryce Harper's haircuts: they are unique and stylish. Here are some great ideas for you to find your own unique style and be on the top of your game.
1. Bryce Harper Subtle Fade
Since fade hair is the cool kid on the block right now, why not start with it? This subtle fade is less obvious than usual, but the contrast and style are still kept with the medium top.
2. Long Top Short Sides

Let's be honest? Long hair is sexy. Period. For the full experience, make sure you leave your beard as long as possible – it will look even more striking. If you have slightly longer hair, you can take inspiration from this Bryce Harper hairstyle. He has slicked his hair backward so that all of his hair sits flush against his head.
3. Bold Mohawk
This medium top with tapered undercut size is made for the modern ones. This modern version of the Mohawk with fade will not let you make a mistake when it comes to style. The length is perfect for the top, and it fits any occasion.
Disclaimer: if you have very straight hair, get ready to spend some time making your top as high as you can!
4. Full Stubble Beard
This pompadour style is a bit longer than the average, but not too long. This combination gives a distinguished look that any warrior wants to have.
Speedy Bryce Harper has taken his hairstyle inspiration from the King of Speed; Sonic the Hedgehog. His choppy haircut means that when he slicks back his hair it has a slightly spiky effect to it.
50 Coolest Haircuts for Men to Try With Thin Hair
5. Fearless Mix
Are you keen for something a bit more, let's say, fearless? This medium cut with a fringe is the perfect blend for a bold choice.
6. Samurai Topknot
Are you the kind of guy who likes to stand out with style? Then, we introduce you to the chonmage haircut. This Japanese inspiration is a more elegant version for the warrior style. Looking forward to impressing even more?
Then make sure you combine it with a very good-looking beard. Long Bryce Harper hairstyles can also be worn in a more stylish way. In this example, he has pulled his mid-length hair upwards into a stubby high ponytail which sits on the top of his head.
7. Pompadour Undercut
This is the signature hair of the year, we can call it the real Bryce Harper hair. If you are willing to take the extra mile, combine it with an undercut and prepare yourself to join the hall of champions.
Orlando Bloom Haircuts With Short Beard
8. Side Part Hair
Who said that fade is the new classic Bryce Harper haircut? Sometimes classic is the best option you can go for. This haircut will never need an update or substitute (and it looks simply amazing!).
To copy this haircut of Harper you will need to start by grooming your hair upwards from the base. This will give your hair volume. Use a very small amount of hair gel to stand your spikes on end. Using only a small amount will allow them to flop in a foppish fashion.
9. Thick Wavy Hair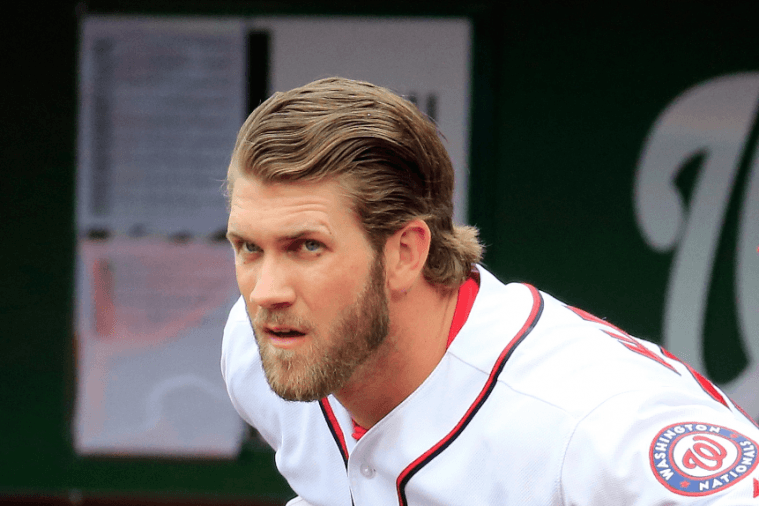 For those who say that waves are boring, this mix of long waves with half-slicked back is stylish and an interesting choice for those tired of obvious looks.
10. Slicked back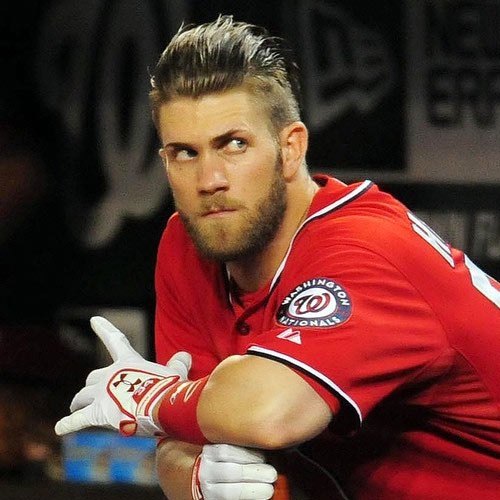 Half-slicked back once more? Honestly, you can never get tired of it. The shorter sides enhance this look, and this is a champion when it comes to turning heads wherever you go.
Slick your hair back with the firm hold hair gel to keep it out of your eyes. In this Bryce Harper haircut, he also secures his hair in place with a clip to make sure that it doesn't fall forwards and obstruct his eyes.
7 Best Sergio Ramos Hairstyles
11. Flawless Combover
For those special days when you want to feel elegant, make sure you try out this hard part combover hairstyle. Even though it is not an everyday look, you can definitely allow yourself to stand out from the crowd once in a while.
12. Bryce Harper's Wet Look
Bryce Harper hair often has a wet look aspect to them, because he is an active sports star. The moisture in his hair helps to keep his fringe in floppy tendrils.
Punky Liberty Spikes for Men
13. Spikey Fohawk
Bryce Harper often likes to add volume to his hairstyle. To get thin high spikes into your hairstyle, use a comb to pull up your hair upwards. A little bit of hair gel will set the hair in place.
To emulate this hairstyle like Bryce, you will need to run a lot of hair gel through your hair. Use your thumb and forefinger to tease sections of your hair up into thick spikes.
14. Harper's Ivy League
This is an example of a Bryce Harper Ivy League haircut. His hair has been smooth down and groomed so that it looks really neat. His hairstyle has been shaped so that he doesn't have a hair out of place.
7 Most Popular Lionel Messi Hairstyles Every Guy Loves
15. Shaggy Style
For a totally wild Bryce Harper hair look, try to copy this shaggy lion cut. His hair has been styled to give maximum volume and brushed through so that it can move freely. Avoid using any gel because it prevents the free movement of the hair.
These were some tips for you to get inspired by Bryce Harper hairstyles; we hope you got good inputs and that you chose your own look to implement your winner look as soon as possible! For hairstyles that look great anywhere, check out our other men's hairstyle lists.
The post 15 Best Bryce Harper Haircuts for Sporty Men [2019 Update] appeared first on Hairstyle Camp.
How useful was this post?
Click on a star to rate it!
Average rating / 5. Vote count: