Crochet braids were popular back in the 1990s, and now they're starting to trend again. With the different textures, colors and lengths of those extensions, you can always achieve the style you're aiming for and make it look like the hair is natural.
And since natural beauty comes above all, crochet braid are an advantage. If you really know how to install those extensions properly, your hair won't look fake as much as it would naturally.
Trendy Crochet Braided Hairstyles
Different crochet braids patterns and colors will be presented to you in this article. So, make sure to have a look if you're wondering which style to go for next.
#1:  Curly Crochet Hair
Afros are one very popular crochet braid hairstyle that provides a voluminous look. If you don't want to be bound by a braid style, you can go for afros.
Dutch Braids for Every Women
#2: Box Braids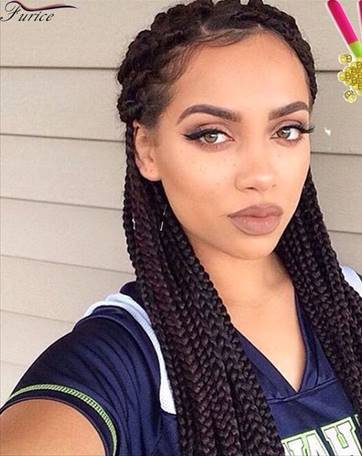 You can use crochet box braids to make your hair get a thicker feel. Then you can create single braids as your protective style. Single braids are easy to acquire and will result in a flabbergasting overall look.
#3: Half Bun
Since crochet braids hair add to the thickness of your hair, creating a top knot with only your top hair will be more than enough for a voluminous and an outstanding hairstyle.
#4: Curly Updo

Collect all your hair and tie them at the top of your head, you'll get one catchy and neat top knot fit for casual outings.
Trendy Jumbo Box Braids To Make An Impression
#5: Purple Single Braids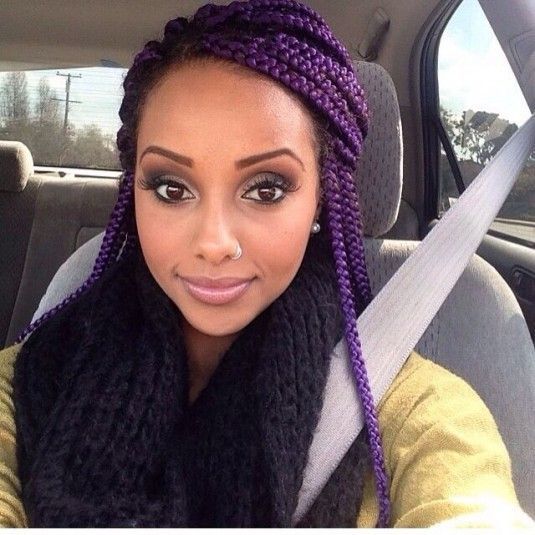 Crochet braiding provides a wide range of hairstyles and don't limit your choice even when it comes to different color extensions. Choose the color you desire and install it before braiding it into the style you prefer.
#6: Fauxlocs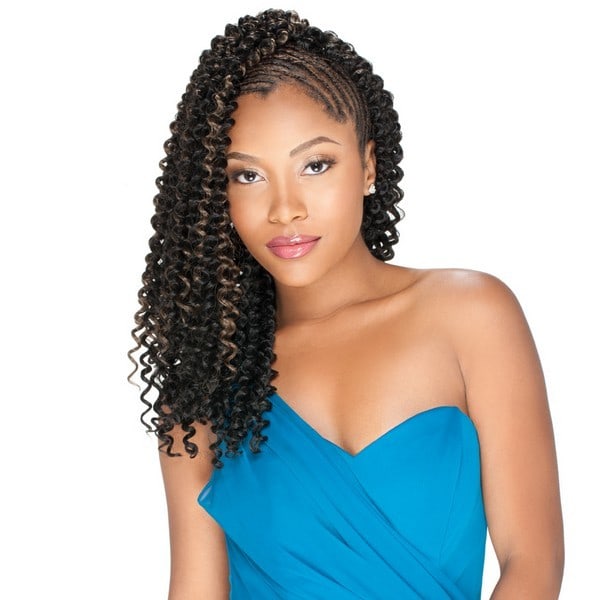 Create micro crochet braids on one side of your head, and let your curls flow freely on the other side. Consider adding some lighter shades of extension to balance your dark hair with.
#7: Hot Red Ombre on Black Hair

Daring colors are always a recommended choice, for every color you choose shows a part of your personality. With your short red curls let loose, let your hair color ignite some action.
30 Ravishing Poetic Justice Braids Styles
#8: Thick Crochet Twists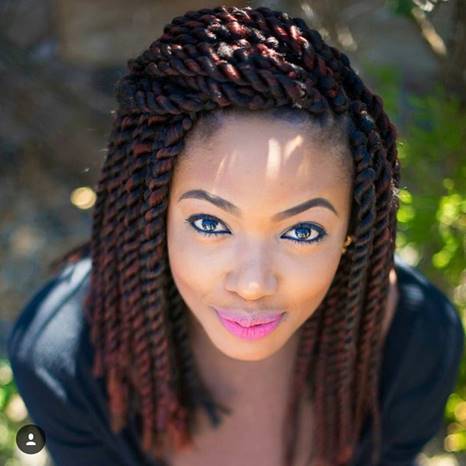 Thick twists are trending these days, mostly because they provide a neat and a catchy look while they last long. To make your hair more personalized, consider adding a few strands of Bordeaux extensions, so they'd create an astonishing wavy effect when twisted.
#9: Short Blonde Curls
Choosing blond for a hair color creates and amazing contrast effect if your skin complexion is dark. With your hair set into thick loose curls, you'll end up with a catchy and voluminous crochet braids hairstyle.
#10: Box Braided Updo

Top knots especially those created with single braids are known for their astounding look, but creating them with ash gray hair color transcends the look to a whole new level keenness.
#11: Side Parted Curly Hair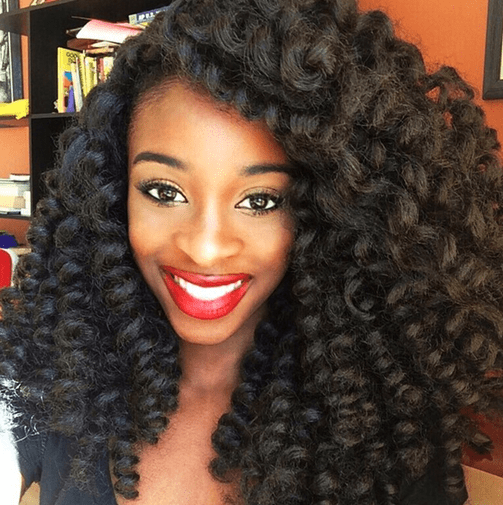 If you're getting set for a special occasion, then you can consider black loose curly crochet braids hair as an option. They create an outstanding look that you can perfect with the right makeup.
#12: Sleek Straight Bob
If you try to straighten your curl out, you'll end up with this striking look. With a side parted bob crochet braids, big round glasses and a light pink lipstick the entire profile picture is brought together.
#13: Dookie Braids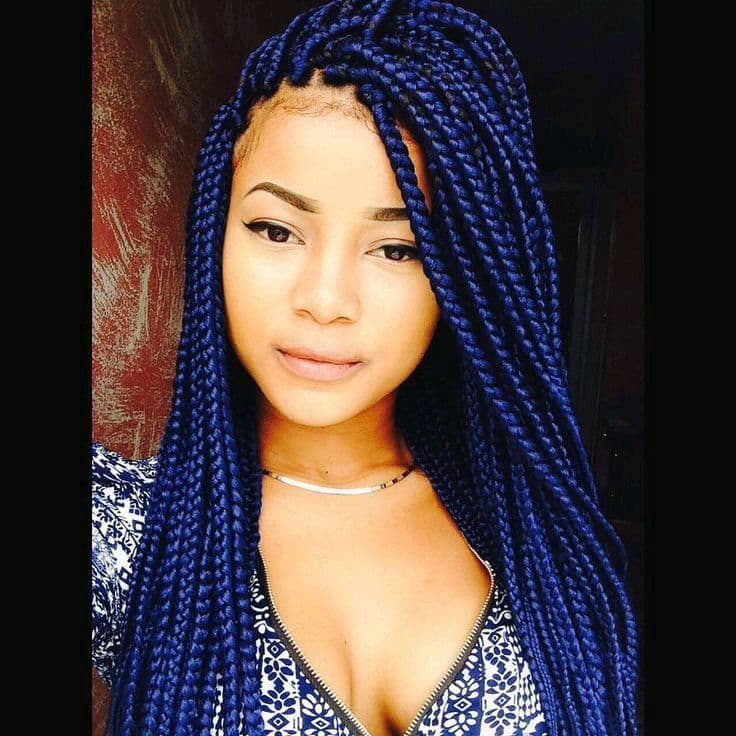 Blue is one tranquil color that this chick just turned fierce. With deep blue long single braids, this style will kill any venue you walk on.
Different Types of Braids with Weaves
#14: Long Permed Hair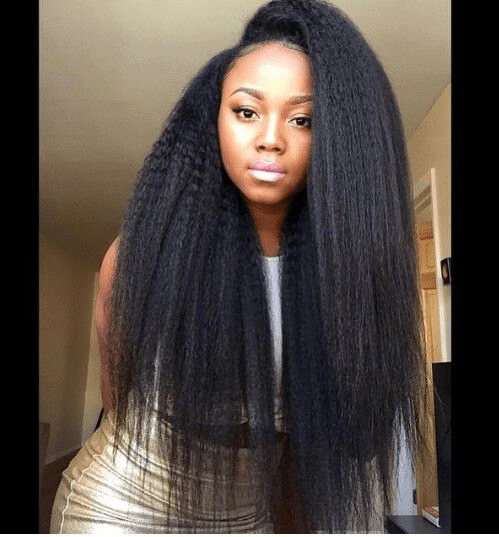 If you're looking to get a longer hair within no time, crochet braid pattern will serve you weeks within 2 hours. If you're holding such a style then the least you should do is be confident with this striking look.
#15: Side Bangs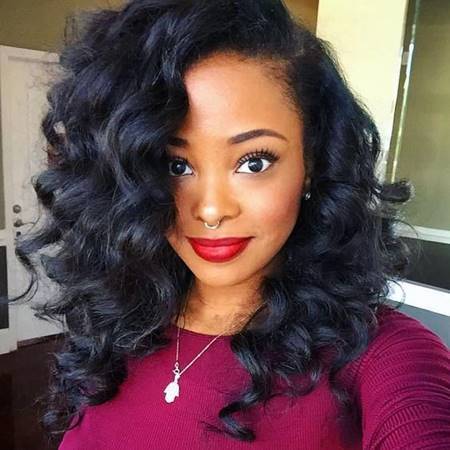 Those long thick curls create volume. With your bangs to the side, you'll give a clearer view of your face. Such an on-point hairstyle must go with some catchy red lipstick to complete the look.
#16: Braids and Sided Curls
With a thick cornrow on one side, and the rest of your hair pulled to the other side you'll create a dramatic fusion between balance and contrast that strikes as sexy and flat out gorgeous.
#17: Bold Short Blue Ombre
This ombre starts with black and descends to a lighter shade of blue, like a vision of a night sky, the waves of blue add to the uniqueness of the look making it the sole source of attention anywhere it goes.
#18: Curls and Bob Weave
This cute style has a lot of curls and volume in it, which makes it look perfect on black women precisely. Use short crochet braid hair if your aim is a bob and not long hair.
#19: Invisible Micro Braids
With the roots of your hair worn into evident cornrows, let the rest of your curls flow freely. This natural looking hairstyle could get people wondering whether this is really your natural hair or not.
#20: Havana Twists
This two strand twist hairstyle is spreading virally amongst young women these days. The magenta twists paired with dark purple lipstick and blue eyeshadow, you are sure to catch everyone's attention.
#21: Curly Bangs
This crochet hairstyle goes all around your head, even your forehead. It's a great style if your aim is to hide your prominent forehead, or if you simply like this style.
#22: Braids and Beads
All the small details you add to your style make a difference. From the magenta strands to the hair beads and even the thickness you choose for each strand make your Marley crochet braids hair look presentable and personalized.
#23: Bob Crochet Braids
The volume that the Havana twists add and the short bob cut paired together create this outstandingly voluminous look. Add some hair beads for some extra action in your look.
#24: Sleek Confidence
This sleek, side-parted loose crochet braids hair strikes as anything but common. With a look of confidence, simple makeup, and the right dress you'll be rocking any party you attend.
#25: Golden Blonde Highlights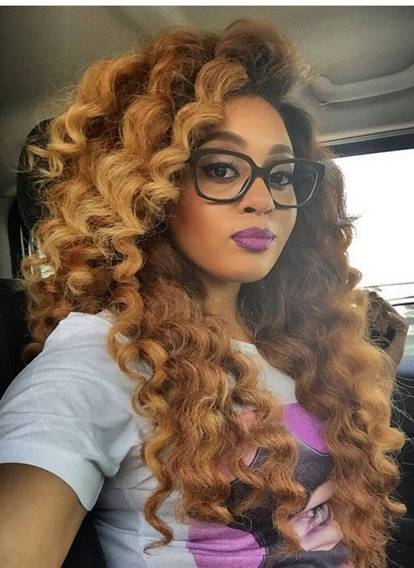 This daring color paired with your skin complexion brings the contrast game onto the table. It's a daring move to go for such bright colors but nonetheless still look flabbergasting.
With these 25 striking crochet braid hairstyles presented to you, you can see a sample of a huge variety of styles that can be done though crochet braids. With all the different lengths, colors and texture be sure to get the style you're thinking of because all can be done with crochet braid.
The post 25 Crochet Braids Hairstyles You can't Miss appeared first on Hairstyle Camp.
How useful was this post?
Click on a star to rate it!
Average rating / 5. Vote count: